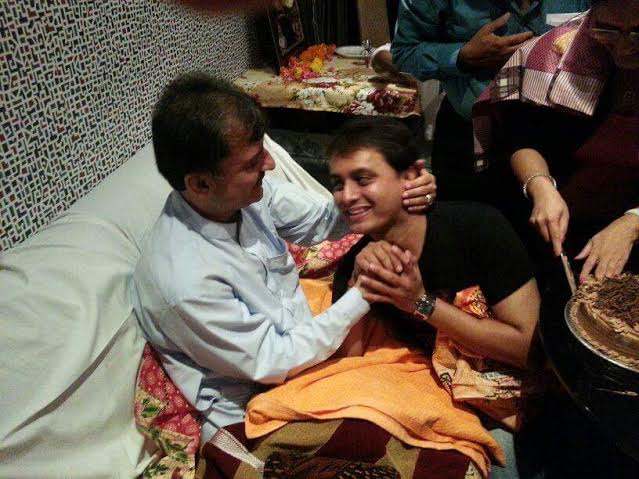 Ever since I have known Sainjan, my life has changed completely. I have experienced eternal joy and bliss with him, life has never been same since then. Penning what I have felt is just one more miraculous deed of his! It had been almost ten years I got married in a very loving caring family. Like any other happily married couple, we were desperately wanting to have our first child. A year passed like a blink of eye and want of baby, became our priority.
By God of grace, I have a very supportive family, who always supported us, there was never a pressure from anyone. Sainjan's blessings and Rehmat kept us busy, in some or other productive work. I started taking medical advice from doctors for conceiving. All the tests and parameters were normal, but some how the results were not positive.
We are all NAAM DHARIS of Sainjan, Simran and seva kept us occupied. Mean time going to doctors sitting for hours in queues, taking annoying medicines, tests became a part of life. I would loose my patience many times but Sainjan would always tell me lovingly "sab rehmat hogi beta sab rehmat hogi". His loving words would calm my anxiety and keep me going.
After almost four years of wedding I started my activity studio for kids and ladies I was happily engaged in my work. My work kept me motivated and happy. Want of a baby was always a priority, but I was a much positive person now. I knew that everything will come to me at the right time. Many times I would hear Sainjan's satsangs, sometimes luckily live, and sometimes on YouTube, and it helped me to be a much better person, and a tolerant one.
My family never pressurised me for a baby, infact they always soothed me that, Sain ki bohot Rehmat hogi .
By this time I had visited all the doctors of Nagpur. I had done all the treatments possible, from simple ones to advance ones. I had done everything that was possible but results were negative .
Sometimes I would cry loudly sometimes, sob alone, that why I have to undergo all this pain and suffering because every treatment gave me failure. But my inner strength and strong belief that Sainjan is with me, kept me going. Nine years passed and I would tell my inlaws several times to opt for adoption. My father in law had a very strong belief that Sain Sadhram Saheb, Rehmat jarur karenge. He would always console me, to keep patience. One day I convinced him that its high time now, I cant wait anymore to have a baby, he almost gave up and said that ok, if Sainjan says yes we would go for adoption.
I still remember that day I was at my peak of sadness, and we got connected to Sai sadhram Saheb on phone. We asked Sainjan for adoption, and in a very clear and firm manner sainjan said, "You will get your own kids and best will come to You, you will not get just one kid you will get 11 kids".The moment you talk to Sai Sadhram saheb in your midst of despair, all the negativity is just thrown out, and you are gushed with his divine positivity.
Once again I gatherd all the strength, and started living my normal life. Sainjan told me once "teri muskurahat mai Abhishek ki muskrahat hai, that was so true all the time.The moment I gatherd my strength, my entire family would pep up. Going to doctors once again, became a part of life. My brother in law suggested me to go Mumbai jaslok hospital for treatment but I was quite reluctant to it .I thought I would not be able to handle the utter proffesional atmosphere there, so I asked Sainjan for the same, and to my dismay even he suggested me to go there.I was not at all ready to go , but because Sainjan chose that for me, I coaxed myself to go there.I underwent a ivf treatment there. Unlike what I thought the hospital staff was very polite, helping and thoroughly updated,they explained me the parameters quite well, and all that was needed.I underwent my second ivf treatment there, unfortunately I had to face a failure again. We came back home with a greater sadness and depression in heart. We moved on with life. Two months passed and we came to know that Sainjan is having program in Dubai for few days. Abhishek my husband wished to see him there, so he left for Dubai.
Like a small child, demands from his mother, similarly Abhishek kept his heart in front of Sainjan, and said "now I don't know anything, I only know that You can bless me, with a baby and I want a baby desperately, do rehmat on me" There were tears in his eyes. Sainjan showerd his utmost love on him, and asked him and me to do seva of devri saheb by swiping it, and said that what ever dust we gather both of us should apply on our heads.His words were our command. We would go to Dham Saheb on routine basis and do the seva whole heartedly. At the same time we started out third ivf treatment in Jaslok Mumbai. After the needful we came back to Nagpur and got back to our routines, and then came the day of the result of test, whether it was positive or no, and guess what, this time I passed with shining stars! yes indeed the test was positive. Me and my entire family was elated with joy. We all had tears of joy and abundance of thanks giving and happiness in our hearts for our Sainjan
The entire family rotated around my wishes, what I want to eat what I want to wear, and all the other pamperings. Three months of pregnancy passed and I underwent my first sonography. Do I need to say the level of my excitement. The first statement the doctor told me while screening me, was congratulations!!! you have conceived twins !!!me and my husband gleamed in happiness, our happiness had no bounds.
I rememberd the words of Sai Sadhram Saheb, "you will have 11 children .1 and 1" Each day went with blessings of loved ones and well wishers. Each and every member of my family, my friends infact each and every person living in our apartment would pray for me,they all knew the value of this precious pregnancy
Days passed months passed and finally all the wait was over I was blessed, with the cutest and bestest children of world, a baby girl and a baby boy. I was not even out of the operation theartre, and my husband got connected to Sainjan on phone .I cant express the joy everyone felt before I even came out of the theatre, Sainjan named my children as Preet and Pranshu. My family, my friends were so much happy they would end up crying in happiness, because the twin dhamaka was a suprise for most of people, and getting blessed with a daughter and son was like a jackpot in twins.
My kids are almost two years now. When I look at them I see the miracle of Sainjan, I see his love and blessings in them. I see the power of patience and trust in Guru through them.
All the pain all the trouble has been worthy, the smiles of our children is our world and there has never been a look back again.
I have experienced the divinity of my Sainjan many times.I have become a better person by following his preachings. Sainjan is not a blind faith or any person who misguides public for money or any other interest.He in the modern day RAM modern day SAI BABA who has selfless concern, for the well-being of  mankind. His unconditional love and devotion for welfare of mankind, is boon for us. I am short of words to express my experience . All I can say is that sai Sadhram Saheb is spreading love, humanity, kindness, peace among people. A saint so simple a saint so selfless I am more than blessed to experience his divinity.
SachoSatram .
Sacho Satram.