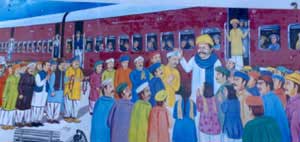 Sabumal from the town Madae was a very rich man. He was suffering from an incurable fever. He had spent a lot of money on medication and tried all types of medicines but all went in vain. Because of his deteriorating health, his business also got affected and then came a day when he was totally broke. He had no money now left with him, and could not afford to take any further medication. When he was rich, people used to come to meet him in his Baithak but now after his low financial condition no one came to visit him because people thought that Sabumal might ask them for some favor.
Once he was standing in the market when a friend asked "Sabumal why aren't you seen these days?" On hearing this tears rolled out of his eyes and he replied, "Dear Friend, It is all my bad luck." His friend advised him to go and meet the most revered and great Saint Sai Satramdas Sahib who changes people's fortunes with his blessings and also informed him that Sai Satramdas Sahib was crossing their station by a train that day, so it would be a wonderful opportunity to meet him. He told Sabumal that only one glimpse of Saijan will make his fortune for ever and he will regain his good health
That night Sabumal could not sleep and was so excited to see Saint Satramdas Sahib that he kept chanting Sacho Satram, Sacho Satram.
The train was to reach the station in the afternoon but Sabumal went there early in the morning. He was so happy that he could not think of any thing else. At last the train reached and Sabumal immediately went and fell at the feet of Saint Satramdas Sahib and in haste, requested Sai Satramdas sahib to take his fever from him. Saint Satramdas Sahib said "even if you would have told me otherwise also I would have blessed you but you have asked me to take your fever so now instead of curing you in some other way I will have to take your fever for myself. I am so much thankful to The Lord who through you has given this duty of accepting your fever for myself and from now onwards you will not get troubled by this incurable fever but I will bear it." On hearing this Sabumal got upset and said, "why did I say such a thing to You?" Saint Satramdas explained "it is a blessing by the God on me so you don't feel guilty."
After that day Sabumal never got that fever but Saint Satramdas Sahib, got it.
Sacho Satram.