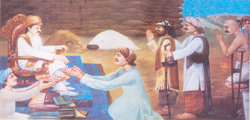 It is a very well known fact that wherever Saint Satramdas Sahib went, thousands of people would come to seek his blessings and would get their wishes fulfilled.
Whenever Saint Satramdas Sahib would sing, the whole atmosphere would be filled with divine vibrations and everyone used to feel blessed and would get utmost peace of mind.
After singing bhajans and raagas in praise of the Master, Saint Satramdas Sahib would accept the offerings given by different people which Saint Satramdas Sahib would distribute immediately among the needy people present for bhakti . Poor people through these offerings would buy food, buy a shop or house for themselves. After every Bhakti program by Sai satramdas Sahib, food used to be served to all the people present for bhakti program..
Once Saint Satramdas Sahib went to Khanwahan, a Village on the mountains. Three men,Shobraj, Veerbhan and Aaloomal offered Rs 6000/ in cash, clothes and some food items to Saijan during bhakti and Saijan distributed all these things among the poor, needy, orphans, handicapped people. Saint Satramdas Sahib would always spread love and happiness with his blessings wherever he went..
Sacho Satram.