Once a man went to Sai Satramdas Sahib and told him, that he had too much of itching in his hands, and he had tried many doctors but the itching problem still continued.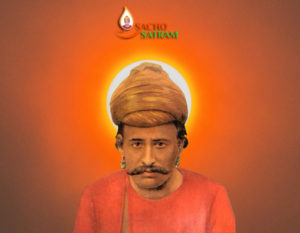 Shehenshah Satguru Sant Sai Satramdas Sahib asked him to consult a good doctor, as he was not a doctor. That man was a dedicated devotee of Sai Satramdas Sahib, and knew the healing powers of Sai Satramdas Sahib, so he told Sai, that no doctor can treat him, and only Sai can treat him, as he was above all the doctors, and only his blessings, could treat him. Sant  Sai Satramdas Sahib, very lovingly looked at his hands, and told him, to go home, and wash his hands with soap. The man was surprised, and told sai that he regularly washes his hands with a soap.
Shehenshah Satguru told that man sto go and wash his hands again with soap. That man followed Saijan's instructions and went home, washed his hands with soap and, to his surprise, he noticed, that now he had no itching problem, at all in his hands. It had just vanished. The man realised, that how powerful were Sai's true divine words.
Sacho Satram.